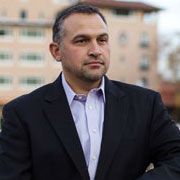 John P. Zachman is the CEO of Zachman International®, Inc, an organization dedicated to the research and advancement of the state of the art in Enterprise Architecture principally based on the Framework for Enterprise Architecture- The Zachman Framework™. The Zachman® Framework has received broad acceptance around the world as an integrative framework, or "periodic table" of descriptive representations for Enterprises. John is also the CEO of the FEAC® Institute, the premier training and certification Institution for Enterprise Architects.
As son of Zachman Framework originator, John A. Zachman, John has worked closely with his father in the management of Zachman International for nearly a decade. In addition to the consulting practice and operation of Zachman International and FEAC, John has over 18 years of diverse experience in high-level management in the automotive industry and in the music industry as the Vice President of Marketing for Big Fish Audio, a sound manufacturer in the Los Angeles area. In these roles his focus was on entire organizational management with emphasis on analysis and implementation of enterprise systems. John is also currently an adjunct professor of ancient Greek at The King's University as well as an adjunct professor in the Business School at Colorado Christian University.
John holds a Bachelor of Science degree in Applied Management and a Master of Arts degree in Organizational Management, both from Azusa Pacific University. He is near completion of a second Bachelor's degree from L.I.F.E. Pacific College, has served on the Board of Directors for Arcadia Christian School, serves as a jury member for the Enterprise & IT Architecture Excellence Awards at iCMG in Bangalore, India and is on the Enterprise Architecture Education Forum out of the Executive Office of the President – Office of Management & Budget in the United States.
John is an accomplished musician, has coached varsity football at Rampart High School, and serves in the Children's Department at New Life Church in Colorado Springs.